The purpose of the Flame of Fire O.R.M. [Mission] is to let people throughout the world know that there is still hope in Jesus Christ for all things.
Psalm 39:7 – "And now, Lord, what wait I for? My hope is in Thee."
Greetings to all in the name of Jesus Christ our Lord and Savior.
I would like to give praises and honor to Jesus Christ for making me a Christian to worship and serve him. I give thanks to my late father and mother, Mr. and Mrs. John W. Willis, Sr. of Sumter, South Carolina for instilling in me from a child the Holy Word of God.
The "Flame of Fire Mission" was founded in Lake City, South Carolina in the year 2001 by Victor Willis. The Flame of Fire God given name originated from Hebrews 1:7.
The Flame of Fire Christian organization received their charter from the state of South Carolina, in the year 2001.
The primary objective of this mission is to help all mankind to believe in Jesus Christ as their personal savior. To help restore the homeless, from things that keep them in bondage, and to help rebuild their lives, so they can live a "Christ-center" fruitful lives.
We, the people of Flame of Fire Mission give the praises, honor, and glory to Jesus Christ, for giving us, such a blessed mission to help others. Remember, the most blessed gift is to love one another.
Yours in Christ,
Victor Willis
Founder
Founder, Evangelist Victor Willis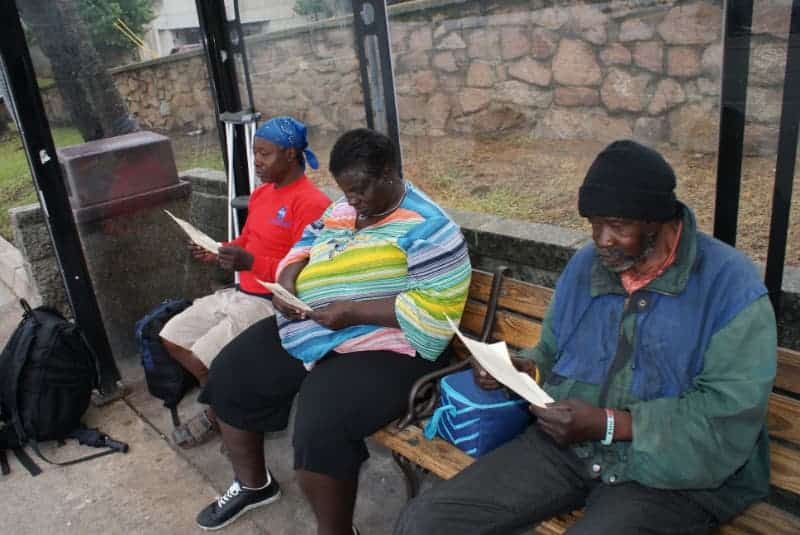 Teaching them to observe all things whatsoever I have commanded you: and lo, I am with you always, even unto the end of the world. Amen. Matthew 28:20
A love for the homeless.

In Columbia, S.C, you can find a homeless person in different places. Our job is to put love in action, when we meet them.
I was going to my P.O. Box, and a homeless person had the floor rug pulled up in front of my p.o. box, and was asleep on it. He told me that he hadn't eaten. The Lord led me to feed him and help him get off the Post Office floor. He told me he still has confidence in the Lord Jesus Christ, even though his circumstances looks rough. The question is, do we still have confidence in our Lord Jesus Christ when crisis arrives in our life?
Jesus Christ commands those that accept Him as Lord and Savior to love all mankind. He stated in the Scriptures, "A new commandment I give unto you, that ye love one another; as I have loved you, that ye also love one another. By this shall all men know that ye are my disciples, if ye have love one to another." (John:13:34-35)
I find out from my experiences, true Jesus Christ love conquerors all things.
CALL TOLL FREE 1-833-848-0699 FOR PRAYER
VICTORY IN JESUS CHRIST !!
Maryland Area Ministry

Elder Leroy Willis, under the direction of our Lord and Savior Jesus Christ, carries out the nursing home ministry in the Baltimore, Maryland area. He is a member of the Flame of Fire (O.R.M.) Outreach Ministries, charter by the State of South Carolina, to legally carry out the ministry work.
Read more about Elder Leroy Willis